Omnibus polling – valuable insights at a fraction of the cost
For businesses and organizations that want to gain valuable insights at a fraction of the cost of running a dedicated survey, Omnibus polling is your best solution. Once we learn about your objectives and needs, we do the work of finding other companies to partner with you on an omnibus, so you can meet your informational and strategic needs and still stay within your budget. Screener and standard demographic questions are included in the cost.
Oraclepoll Research Limited is an expert in the field of Omnibus polling. We've worked extensively with companies both large and small to provide data-driven insights that your company is looking for. We employ live person-to-person callers using Computer Assisted Telephone (CATI) interviewing and random number selection (RDD) for all our omnibus surveys.
Our firm stands by telephone research (using live multilingual callers) as the most accurate method by which to gather data from a statistically valid and representative cross section of the general population. We make it possible to determine awareness or perceptions of your organization and its brand or products; market potential or buying behaviour; profile of you target customer or audience, and more.
The omnibus survey format allows your organization to participate in a national, provincial or regional survey and share the costs with several clients. These confidential surveys offer quality, flexibility, reliability and quick turnaround.
Omnibus options:
Oraclepoll has several options for those looking to take part in our large market surveys:
National: A nation-wide survey of 2,000 randomly selected people
Regional: Ask us about dates and sizes, as we survey specific regions such as Eastern and Western Canada
Ontario: A province wide survey of 1,500 people conducted month by month
Oraclepoll's Omnibus surveys are ideal when it comes to meeting your needs in a quick, economical and targeted fashion. Be confident in the results knowing that:
Omnibus surveys are generally in the field for five to seven days.
They are NOT a panel survey in which we re-contact the same respondents.
The sample is drawn proportional to the adult voting age population in each state or province based on statistics obtained from the Census.
Quotas are controlled for and based on this data for each region.
As well, quotas are controlled for age, gender, and ethnicity across the sample file as a whole. The omnibus includes cell phone only users.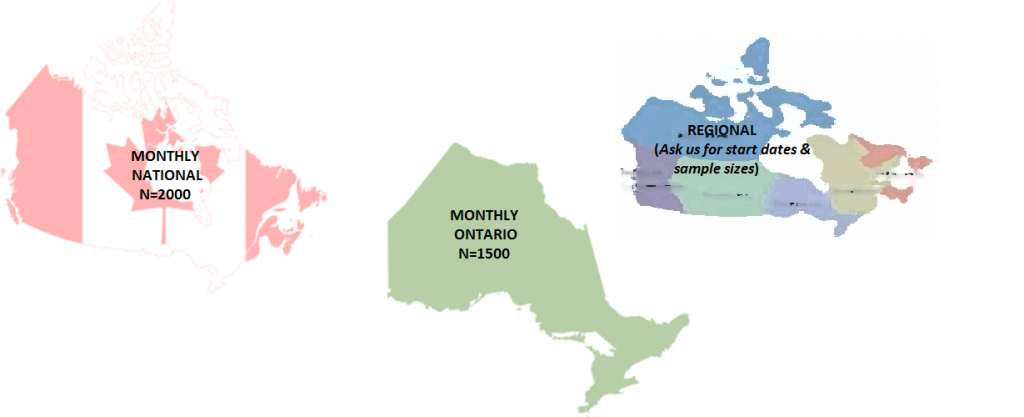 Online Surveys and Online Survey Panels – Meaningful and Affordable Insights
Get the results you are looking for quickly and affordably. Our survey software can help you get answers to important information about your company or brand, your customers or employees, your product or market. We offer Computer Assisted Web Interviewing (CAWI) using a tailored Voxco online survey engine tailored to each specific client survey. Oracle designs and securely collects all client data that is analysed and delivered in a thorough report on the captured results.
Let us help you find the right insights and the right information.We can make it easy for you to find out what you need to know in a quick and affordable fashion. This tool is the ideal surveying system for client and employee surveys. It is interactive and ideal for brand testing, customer patterns, and perception analysis.
Keep up with an ever-changing market and take advantage of emerging opportunities. Our surveys include:
Consultation, design and programming
Picture and video display, sliders, drag and drop menus, ranking etc.
Open-online surveys (ideal for community input), which can be used in tandem with phone polling
Phone recruiting to the web survey
Dedicated closed surveys (email invitations and permissive PIN access)
WATI (web assisted telephone interviews) where a live agent assists respondents throughout a survey (probing etc.)
Reporting and analysis of results
Tables, tabs and data files
Looking for a wider sample?
Oraclepoll's online panel survey options are a cost-effective way to get your questions in front of a broad cross-section of Canadians.
National and regional
Constantly refreshed samples
Quick turnaround
Cost effective